Beer Wars DVD for Educational Use
$350.00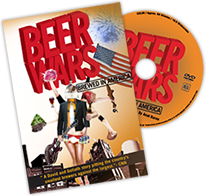 These licensing rights cover your organization's liability and protect you from copyright infringement. DVDs are licensed with Public Performance Rights for non-commercial and educational exhibition when no admission fee is charged. The rights are yours in perpetuity once we have received the appropriate licensing fee. Licensing rights cannot be transferred. As such, the licensing rights only apply to use by your organization. These rights cover our company from the financial loss incurred by multiple viewings of a single DVD versus each viewer purchasing their own copy. But, more importantly, as stated above, the educational licensing rights protect you from copyright infringement and other legal ramifications.
Purchase orders may be sent to Ducks In A Row Entertainment Corporation by e-mail or regular mail:
Ducks In A Row Entertainment Corporation
Attn: Purchase Order Processing
304 S. Elm Drive, Suite #405
Beverly Hills, CA 90212
E-mail: beerwarsmovie@gmail.com
Beer Wars is a feature-length independent documentary that takes you on a no holds barred exploration of the U.S. beer industry that ultimately reveals the truth behind the label of your favorite beer. Told from an insider's perspective, the film goes behind the scenes of the daily battles and all out wars that dominate one of America's favorite industries.
IN ENGLISH | COLOR | Sound Mix 5.1 | 16:9 | Not Rated | Runtime 89 minutes | + 40 minutes of SPECIAL FEATURES
SPECIAL FEATURES: Beer Wars Live Panel Discussion, Deleted Scenes and Trailers