Beer Wars DVD for Home Use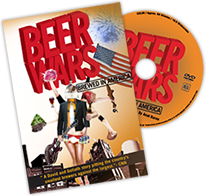 Beer Wars is a feature-length independent documentary that takes you on a no holds barred exploration of the U.S. beer industry that ultimately reveals the truth behind the label of your favorite beer. Told from an insider's perspective, the film goes behind the scenes of the daily battles and all out wars that dominate one of America's favorite industries.
BEER WARS | IN ENGLISH | COLOR | Sound Mix 5.1 |16:9 | Not Rated | Runtime 89 minutes | + 40 minutes of SPECIAL FEATURES
SPECIAL FEATURES include: Beer Wars Live Panel Discussion, Deleted Scenes and Trailers

---
Licensing rights of the film are available for educational use at your College/University and/or public library.
---
Screenings and Speaking Engagements
If you'd like to set up a screening of the film for your film club, bar, brewpub, homebrew club any other group, please contact Anat Baron.
---
Some things you should know…
I am Self-Distributing this film, so every DVD sale supports this independent filmmaker!
This DVD is for home use only. That means for you and some friends and family. Educational and library licensing rights are also available. For other public performance rights, please contact Anat Baron.
This BEER WARS DVD is available for purchase to anyone anywhere in the world. Please note that shipping costs will depend on destination.
This is an all-region NTSC DVD that is compatible with standard NTSC and all-region DVD players.
DVD packaging is unique – the DVD tall-case, sized similar to a plastic DVD amaray case, is made of 100% post-consumer, recycled material and is printed with vegetable-based inks. With a side pocket it eliminates the use of a plastic tray.